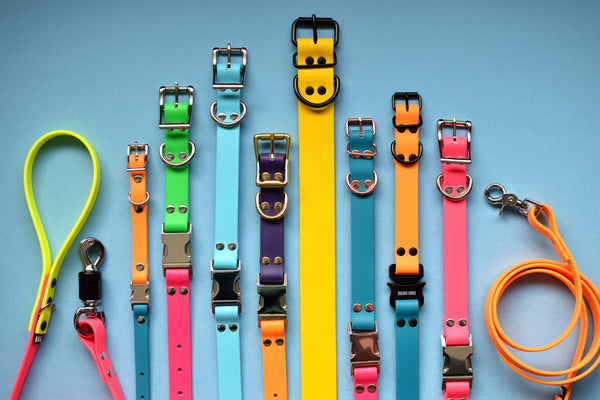 MYSTERY COLLAR - "Whoops!" B-Grade Mystery Collars, Premade Collection
MYSTERY COLLAR - "Whoops!" B-Grade Mystery Collars
Mistakes happen! So why not get a great discount on a slightly less-than-perfect collar or leash? In true 90's kid fashion, I wanted to flash back to the Ardene's Surprise Bag era and offer these collars * mystery style * - this means you don't know the colours ahead of time!
How does it work?
Choose your size and collar style - the rest will be a surprise! Hardware finish and colours will all be a mystery. Colours may be any of our past or present biothane/leather options, hardware finishes may be any combination of our past or present options. **All mystery items are FINAL SALE, no exceptions. Get a colour you really don't vibe with? Now you have a great gift for a fellow dog friend! Have certain colours on your list that are a definite no-go in your wardrobe? Shop our Premade Collection or Design Your Own instead and choose exactly what you love!
What to expect:
These collars are discounted because they have some minor mix-up's, which may include but are not limited to:
Staining or edge paint on the biothane/leather surface
Aesthetic surface cracking on the leather
Finish flaws/scratches on hardware pieces
Non-standard hardware placement (ie. I accidentally spliced the quick release buckle in at a different length than our standard items)
Non-standard sizing (ie. 1" shorter or longer than our standard stock size ranges)
Nothing at all - some collars in the mystery bags are in perfect condition, I just made the wrong colour or size by mistake!
These items are in stock and ready to ship! Mystery items will be ready to ship out in 3-5 business days. **Note: If your order contains both Mystery Item and Design Your Own items, the entire order will ship together in 4-5 weeks once all items are completed.
Sizing:
Measurements listed for all collars in the shop are the lengths of the actual collar in inches on the available settings - NOT the snug neck size they are designed for, since this can vary depending on preference of fit. Lengths of the collars are measured when they are unbuckled and laying flat on a measuring tape. It is important to take into account some breathing room to make sure your dog is fitted comfortably. More tips for sizing your dog can be found here.

**ABOUT BIOTHANE**

- Biothane is a synthetic material composed of an embossed "leather-like" PVC outer layer and a nylon core. It is waterproof and stinkproof which is great for dogs who love to swim, and the colour will remain bright for years to come. 

- Biothane can be cleaned with warm water and soap, or a cloth with a dab of rubbing alcohol. Care instructions are included with every item when shipped. In rare events, a small amount of colour transfer to the fur is possible, however it is non-hazardous and will clean with soap and water.

- Colours may vary from the photographs as each monitor will show colours differently. 

- The safety and well-being of you and your dog is our number one priority, which is why all metal hardware components are warrantied against breakage for the life of the collar. In the rare event that a metal component fails, it will be repaired free of charge or replacement hardware will be mailed. All required shipping for collars to be repaired is at buyer's expense.
- Please note that the finish on plated metal hardware components can wear with use and change colour over time - this is normal and not covered by the hardware warranty. For safety purposes, dogs should always be supervised while wearing collars and all fittings should be inspected regularly.

Please don't hesitate to contact with any questions or special requests prior to purchasing.