DESIGN YOUR OWN
Choose from any of our existing styles and customize the Biothane colours and hardware to suit your style!
More info
FRESH FLANNELS
Fresh new flannel patterns, perfect for the new year - all with matching Scrunchies and Waste Bag Holders so you can hit the dog park in style.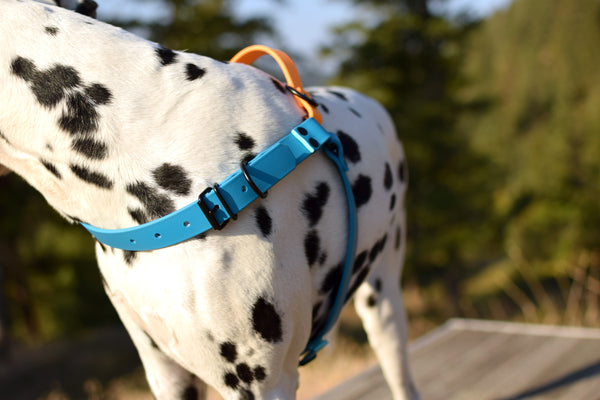 HARNESS DEBUT
Our most anticipated and highly requested product release of all time is finally here!
After more than 2 years prototyping and perfecting this design, we are so excited to share our harness with you.
Shop Harnesses
COOL DOG
Quality, style, supporting a small business. What more do you want. My dog looks like the mascot of a sweet 80s Rec centre leading the fight against the heartless developer. Your dog can look equally as cool.
Perry B.
AMAZING!!!
Absolutely love my collar royal blue (base colour) black (accent colour) gold (hardware). It looks amazing and you can feel the quality in the product. The owner is amazing with responding to you if you have questions or concerns 10/10 would recommend and 10/10 WILL buy again!!
Marissa W
A COLLAR FOR ALL DOGS!
I love these collars so much that I've purchased one for every dog in my extended family. They clean up nicely (important for the dogs who like to roll in horse poo/dead muskrat/other dead/smelly things), are beautifully made, and outlast every other collar I've ever owned. Highly recommend!
Jennifer O.
BEST COLLARS FOR ACTIVE DOGS!!
Our corgi loves swimming, hiking, and rolling in snow and mud. He's worn his biothane collar everyday for almost 3 years and it's in perfect condition! It's so easy to clean and incredibly durable, I cannot recommend these enough!! We love all the colors so much we just ordered a second one!
Jaydon
BEST WAIST LEASH!
I wish I ordered one of these sooner. Being hands free makes walks even more fun!
I love the versatility to move the leashes around my waist. The style is so cute and fits with any outfit.
A must have for any dog walking fanatic!
Erin
Where We Are
PO Box 462
Lumby, BC V0E 2G0
hello@dogdoggoose.ca
View our Stockists page to see where you can find our products in a store near you!