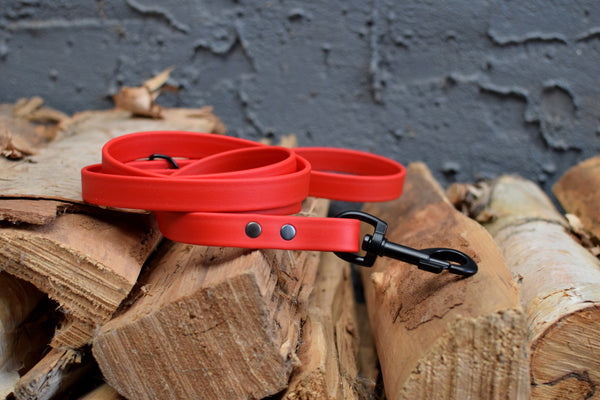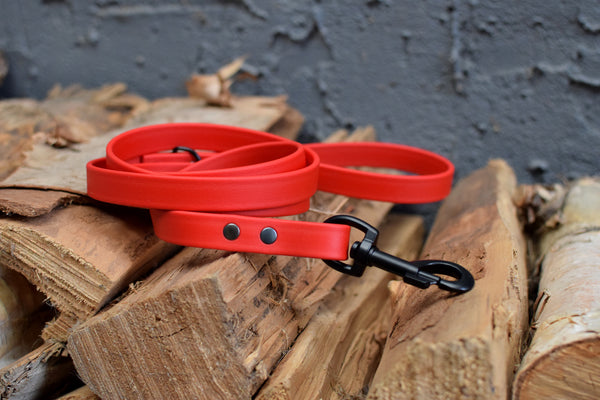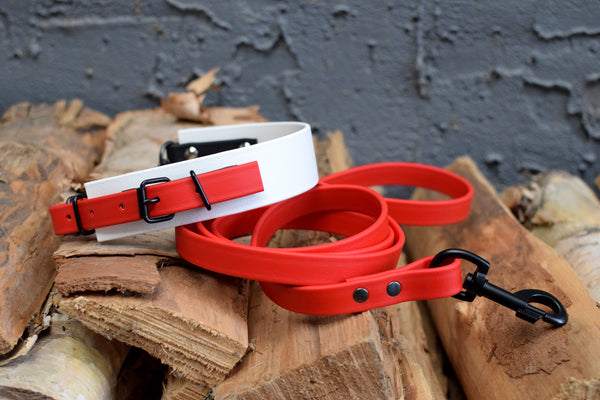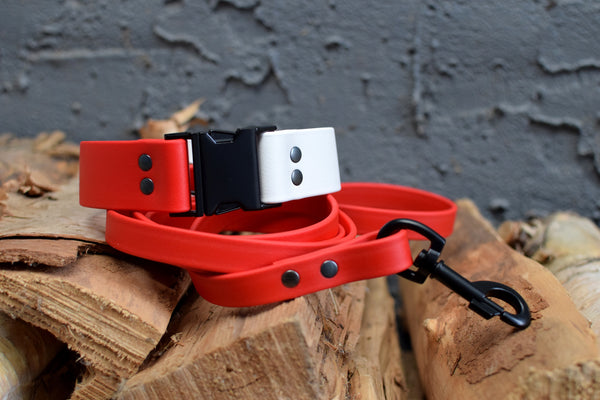 LUCI COLLECTION - Red & Black Biothane Dog Leash
LUCI COLLECTION - RED & BLACK BIOTHANE LEASH
Designed in honour of our inspiration - introducing, The Luci Collection! This listing is for a 3/4" wide biothane leash with solid metal hardware.
Biothane Colour: Red
Hardware Finish: Powder Coated Black
Clasp Style:
Regular Clasp: Fits best on d-rings that are minimum 3/4" - great for dogs who are 25lb and up or dogs who are walked on a harness
Small Dog (5/8"): A narrower leash with a lighter weight clasp, great for small dogs
Thumb Trigger Clasp: Fits well on all sizes of DDG Collar
Locking Carabiner: A quarter twist, spring loaded sleeve provides extra security

PREMADE COLLECTION LEASHES
These items are in stock and ready to ship! Items in the Premade Collection will be ready to ship out/pickup in 3-5 business days. **Note: If your order contains both Premade and Design Your Own items, the entire order will ship together in 3-4 weeks once all items are completed.
**ABOUT BIOTHANE**

- Biothane is a synthetic material composed of an embossed "leather-like" PVC outer layer and a nylon core. It is waterproof and stinkproof which is great for dogs who love to swim, and the colour will remain bright for years to come. 

- Biothane can be cleaned with warm water and soap, or a cloth with a dab of rubbing alcohol. Care instructions are included with every item when shipped. In rare events, a small amount of colour transfer to the fur is possible, however it is non-hazardous and will clean with soap and water.

- Colours may vary from the photographs as each monitor will show colours differently. 

- The safety and well-being of you and your dog is our number one priority, which is why all metal hardware components are warrantied against breakage for the life of the collar. In the rare event that a metal component fails, it will be repaired free of charge or replacement hardware will be mailed. All required shipping for collars to be repaired is at buyer's expense.
- Please note that the finish on plated metal hardware components can wear with use and change colour over time - this is normal and not covered by the hardware warranty. For safety purposes, dogs should always be supervised while wearing collars and all fittings should be inspected regularly.

Please don't hesitate to contact with any questions or special requests prior to purchasing.